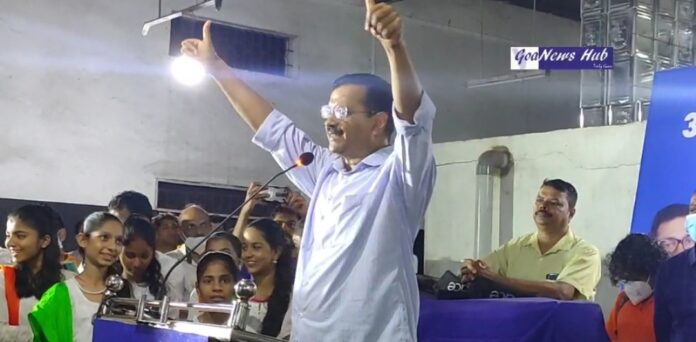 Saleli: When ministers can have 3,000 units of electricity free every month, what is wrong in giving 300 units free to common man, Delhi Chief Minister Arvind Kejriwal questioned on Tuesday.
Addressing a public meeting at Poriem Assembly constituency in North Goa, Kejriwal said that one of the BJP minister from Delhi, who was in Goa recently, had objection to AAP's announcement of free electricity.
AAP has announced that they would be providing 300 units of electricity free, every month, once voted to power in Goa.
"When Minister can get 3000 units of electricity free cost every month, why can't I give 300 units to common man," he questioned.
Kejriwal said that his party aims to eradicate corruption from the state.
"I am not a politician. I am not a leader. I am Aam Admi like you all," he said addressing public during induction of local leader Vishwajit Krishnarao Rane in Poriem Assembly segment.
He said that ten years back, there was a "setting" between Congress and BJP in which they used to share the power every five years.
"When we formed the party and contested the election in Delhi. People voted for us. We have given the best government in Delhi," he said.
The Delhi chief minister said that since being elected, AAP government has done lot of work in Delhi.
"We have given the best government schools, the parents have started withdrawing their children from private schools and admitted them in the government schools," he said.
Kejriwal said that AAP wants to bring, Delhi model of governance in Goa.