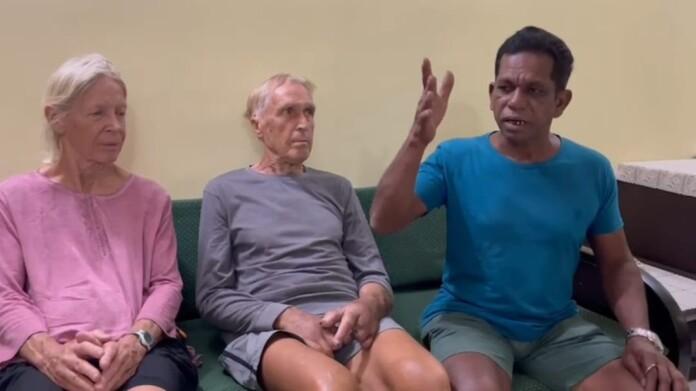 A shocking incident came to light after 45 days when a German elderly couple came out of trauma of a grievous injury that had lost five fingers and had undergone serious neuro surgery.
Police and entire Colva village is still mum over an incident that resulted in getting a bad name to Goa's tourism industry and safety of international tourists.
On November 24, 2022 Dieter Eichler (84) and his wife Brunhild Eichler (78) a German couple were walking on the Betalbhatim beach in South Goa, they encountered the motorised paragliding machine that has failed to take off and came down on the busy beach. That has resulted in serious injuries to Dieter while his wife caused minor injuries.
Speaking to GNH the German national informed that his three fingers of left hand while two fingers of right hand lost in an accident. He informed that the hands came in contact with running blades of the machine of paragliding unit.
The tourists were shifted to Colva beach and later immediately shifted to South Goa Government District Hospital. Realising the need of immediate head surgery the couple opted to shift in a private hospital in Margao.
His wife said, "We were lucky enough to reach in the private hospital on time where my husband was operated".
The victim cannot speak and understand English whereas his wife understands English but cannot speak fluently.
Couple has given a complaint at the Colva Police Station but they registered the case of an accident.
A local who stands with them Shonao Rodrigues said that there is no criminal offence that has been registered against the operator of the said paragliding activity.
"I demand the FIR against the operator of the paragliding unit to be registered and proper compensation shall be given to them. Such activities and negligence approach of authorities giving the bad name to tourism industry", Rodrigues said.
He informed that the particular paragliding operator has acquired all legal licences from all the concern departments but he has failed to maintain safety of of the locals and tourists in the vicinity.
Eichler informed that one person named Ryan Pinto has handed over Rs 3,00,000 and signed notarised affidavit from them.
"I am not telling lies, we have accepted the sum, as police were also telling us to take the money and go. We were also in complete trauma and could not think anything", she said.
She said, "but same accident should not repeat hurting so badly to the tourists who visit this beautiful State".
Money is not everything for us, we have paid Rs 7,00,000 hospital bill for a surgery in a hospital, Eichler informed.
The pictures of the injury speak more than our story. Sources informed that the said paragliding operation still continues whereas another incident of this month is also shielded by the cops.