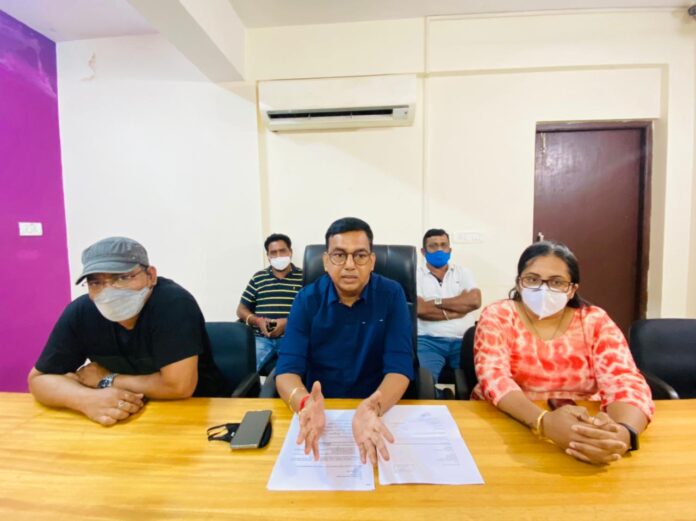 Porvorim: Ahead of the no-confidence motion tomorrow, Sarpanch Sandeep Salgaonkar and Deputy Reena Fernandes of Salvador do Mundo panchayat tendered their resignation from the post.
Both submitted their resignation to Director of Panchayat Siddhi Halarnkar, scuttling the no confidence motion.
Talking to reporters after tendering the resignation, Salgaonkar said that he was planning to quit the post, later during this month on the occasion of his birthday, handing it over to his colleague Hemant Borkar.
He said that the no confidence motion moved by five members against him was without any specific reason. "Some of my well-wishers suggested that I should resign from the post because of which I am quitting the chair along with my deputy," Salgaonkar said.
The outgoing Sarpanch said that the people of Salvador do Mundo will vouch for the initiatives taken up by him during his tenure.
He said that he had suggested the switch over of the post to Borkar, which was also approved by local MLA Rohan Khaunte.
Responding to the allegations of inefficiency, Salgaonkar said that those who are accusing him of being non-performer could not even built a toilet during their tenure.
He pointed out that he has built a panchayat complex, walking track and also upgraded the ground during his tenure. "People still remember how the panchayat used to function from a small premises in the past," he said.
Salgaonkar also took on Sandip Vazarkar for his claim to split the ruling panel from Salvador do Mundo claiming that Vazarkar was master in breaking the things.
He said that Vazarkar should not accuse Khaunte of inefficiency as the panchayat ghar, which he is currently operating from, was built by sitting MLA Rohan Khaunte.
Salgaonkar also questioned Vazakar over incomplete ground at Holy Family school.