Home girl Mayushri Ajgaonkar who partnered an exuberant Vineeta Adpaikar were the pair that made heads turn during the finals of the Women's Doubles non ranking event, organised by Sanquelim Shuttlers in collaboration with the Goa Badminton Association, on Sunday. Egged by the support of the home crowd, Mayushri / Vineeta were all in control in an exciting 21-15, 21-18 win over Vrushali Cardoso / Supriya Pai Kuchelkar to clinch the title honours. For the winners, it was their second consecutive title win following their victory at the Women's day event held last March in Mapusa.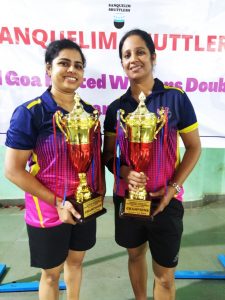 For the 24 doubles pairs that competed in the women-special event, It was a power-packed weekend which featured not only competitive badminton action but also various engagement activities such as Power Garbha dance performance and many spot competitions.
Following special prizes were awarded: Photography: Mayushri Ajgaonkar (Winner), Supriya Pai Kuchelkar (1st Runner up), Sadiq Attar (2nd Runner up). Best Smasher: Gauri Sawant. Best Defender: Trisha Bidye.
Marina Albuquerque / Betty Dourado and Trisha Bidye / Tusharika Salgaonkar had to settle for the 3rd place (semi finals) spots. Anura Prabhu Desai, India International player, was the chief guest during the finals while Yeshwant Desai (President), Kunal Khanvilkar (Secretary) and other office bearers of Sanquelim Shuttlers graced the occasion.