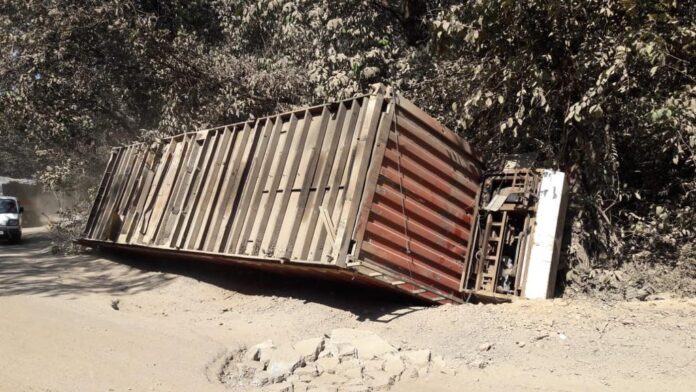 Anmod/Belgavi: The life has come to a standstill for the people living between Anmod and Ramnagar villages of Karnataka, bordering Goa. The non-motorable road has amplified their plight with everyone including students, businessmen and sick people suffering for almost two years now.
For Goans, travelling from the coastal state to places like Belgaum, this stretch has become a "no travel zone" as the vehicles take the route through Radhanagari. And, if you happen to take the road, with error of judgment, than there are chances that you are stuck there with vehicle damaged and your journey negated.
The road stretch between Khanapur to Anmod Ghat has been in dilapidated state. Of the total stretch, the five kilometer long road gives nightmare to the motorists and drivers.
This is the story of travelers. But Goanewshub went to meet the people who are living in the villages around this stretch.
We met C P Rajaram, President, Belgaum-Goa National Highway (Road) Sangarrsha Trust and resident of Anmod village. He has served the country through defence forces and superannuated as ex-serviceman. The Trust was establish on January 21, 2021.
Rajaram narrated anecdotes after anecdotes of how the peoples' sufferings are on rise. The school children have to walk for almost 6 kilometres to reach to their studies.
The buses are rare. And being Tiger Reserve, the restrictions are abundant. This has affected more than 250 students who are living in the villages around this road.
The students who travel to Belgavi are also affected due to this road.
There are five middle schools, three primary schools and two Junior Colleges in this area while for graduation, Belgavi is the nearest destination.
The roadside business is on the verge of closing down as there are few vehicles that take this stretch. The people in this area are predominantly farming community. They are also facing the brunt as there is no transport for them to carry their produce.
The construction of road was given stay by the High Court following Public Interest Litigation filed by one Suresh Hablikar.
Rajaram and like-minded people have formed the trust to  fight for the fundamental rights. They have decided to approach the High Court and the State government asking them to provide alternate road.
The road is already a death trap and during monsoon it would be horrible, he said.