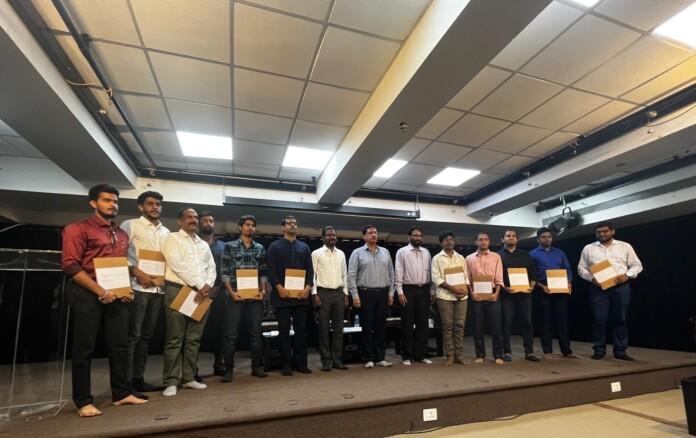 Panaji: Goa State Innovation Council today held the Goa's Young Innovator Award 2022-23. The competition was inaugurated by the Goa Chairman of the Goa Public Service Commission & Goa State Innovation Council – Shri Jose Manuel Noronha, in the presence of the Director of the Department of Science, Technology & Waste Management – Shri Levinson Martins, & CEO of FiiRE & member of GSInC – Shri D S Prashant.
Goa's Young Innovator Award is an initiative to foster innovation and entrepreneurship among the students of Goa from an early age. Open to all schools across the state, the young innovator award gives the students an opportunity to come up with creative and original ideas and inventions having the potential to solve social, environmental and other pertinent problems. The project is judged on the originality and practical applicability of the innovation.
The competition is open in two categories:
Category 1: Students studying in classes VIII to X and
Category 2: Students studying in classes V to VII.
In each category, the winners of the competition earn cash awards in addition to mentoring and prototyping support to develop their innovation into a viable product or solution.
The selection process for the Goa's Young Innovator Award 2022-23 edition was held on 21st Jun 2022. Today a total of 12 ideas are granted with the prototyping Grant.
The Prototyping Grant Scheme of the Goa State Innovation Council provides financial assistance for prototyping technology-based innovative projects/ideas under the initiative of the Virtual Innovation Register (VIR), making it affordable for Students, Startups, Innovators, Research Faculty & Entrepreneurs who require the necessary support in converting ideas into marketable products.
Students, young entrepreneurs and emerging startups with innovative ideas with a vision to transform them into scalable products are the main driving force behind rapid economic growth, increased productivity, and social transformation, as it also helps reshape and redefine almost every aspect of our lives and environment. The Prototyping Grant Scheme by the Goa State Innovation Council has played an essential role in encouraging, discovering, rewarding, and enabling young innovators with pathbreaking inventions to converge their ideas into reality.
Below is the list of 12 ideas that won the Prototyping Grant Scheme for the year 2022-23.
Sr No
Titles of the Idea
1
Balanced piezoelectric microphone with phantom-powered preamplifier
2
Web OR App controlled Tri faced advertisement display-board System
3
Smart Broom | Smart HPT | Smart Tumbler | Smart Baby Feed Bottle
4
Retrofitting of 3-D printer for ready to serve baked cakes
5
Plug and play device we can monitor vehicle performance,
tracking, and other safety features.
6
Design and Fabrication of Fire Extinguishing Rover
7
AI based driver alerting system
8
Design and Development of Coconut Harvesting Bot
9
VR Box for improving customer experience in building construction industry
10
Design and Testing of squat Analyser for powerlifting Sport
11
Design and Fabrication of Exoskeleton for Assistance in walking
12
Development of Green Composite from Cashew nut shell oil