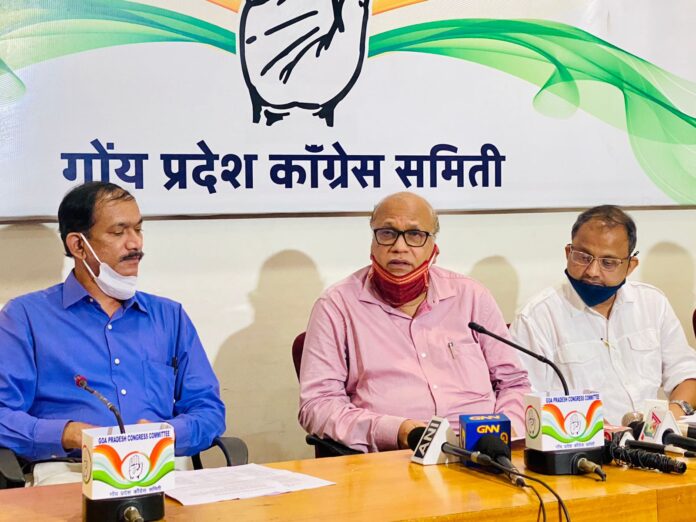 Panaji: There is steep rise in the criminal activities in Goa. The incidents of  rapes, murders, mysterious deaths, kidnappings, gangwars happening almost on daily basis. BJP Government headed by Chief Minister Dr. Pramod Sawant has transformed Goa failed to provide safety and security to Goans. This Government has no moral right to remain in power. The  Governor of Goa should take serious note of collapse of  law and order situation in the State and dismiss the BJP Government immediately demanded the Congress Memorandum subitted to the Governor of Goa today.
A Delegation led by GPCC president Girish Chodankar with Leader of Opposition Digambar Kamat, Working President Aleixo Sequeira, Vice Presidents M K Shaikh and Sankalp Amonkar called on the Governor P S Sreedharan Pillai and submitted him a Memorandum listing various incidents in Goa taken place in last one year.
We have demanded that Governor must take serious note of the collapse of law and order in the State and dismiss the government led by Chief Minister Dr. Pramod Sawant said GPCC President Girish Chodankar.
The attack on a doctor is an example of the complete failure of the administration. There is no control and anti-social elements are taking law in their hands as government machinery is in deep slumber stated Leader of Opposition Digambar Kamat.
The people of Goa are living under threat and fear. Government has failed to provide security to the citizens stated Working President Aleixo Sequeira.
Four page Memorandum submitted to the Governor has listed various incidents in Goa. "The Police Department is yet to come to the conclusion of the mysterious death of a young girl Siddhi Naik whose body was found at the Calangute Beach on 12th August 2021. Yesterday, there was an incident of a father raping his own 6 year old daughter in Salcete. On the same day, an attempt to abduct a girl in Ponda was reported by the parents of a teenage girl. This shows that there is no fear in the minds of the people about the Police and the Government. The anti-social elements feel that Goa is now a Criminal Destination memorandum stated.
This Government did not take any corrective measures to control the criminal activities in Goa after coming to power. They have encouraged Criminal Mafia, Drug Mafia and Beggar Mafia in the State of Goa which has dented the image of this peaceful State.
Recalling the incidents of various daylight criminal activities such as Gang War killing one person at Santa Cruz on 21st June 2020, Murder of Jeweller Swapnil Valke in Margao on 3rd September, Murder of Vilas Methar, a resident of Porvorim by setting him ablaze on 15th October 2020, Brutal double murder of 65 year old Contractor Minguel Miranda and his 85 year old Mother in Law at Fatorda on 8th March 2021, Rape of Minor Girl on 26th June at Bicholim, Suicide of three family members on 29th June at Zuarinagar alleging police harassment, Daylight murder of Amar Naik at Bogmolo on 18th July, Rape of two Minor Girls at Benaulim beach by four persons on 25th July, a Rape incident at Usgao on 29th July, Abduction of Goa Businessman Navin Patel on 4th August  demanding ransom, Rape of 13 years Minor Girl at Sattari and Robbery in a jewellery shop at Mapusa on 11th August, a body of a person found at the Candolim beach on 19th August, Kidnapping and Rape of a Minor Girl from Sattari and Mysterious deaths of two Russian women in North Goa reported on 21st August, attempt to abduct a young girl at Ponda, horrific incident of a 6 year girl raped by her own father two days back and a viral video of a Police Constable beating his own wife on the national highway, the Memorandum has also drawn attention of the Governor on attack on a doctor in Goa.
The memorandum has stated that all these incidents prove that Goa is now become a Criminal Hub.
It is shocking that the Chief Minister Dr. Pramod Sawant had blamed the Victims and the Parents for the incidents of Rapes in Goa after the Benaulim indident. Surprisingly, he has maintained a conspicuous silence on the recent incidents, the memorandum stated.