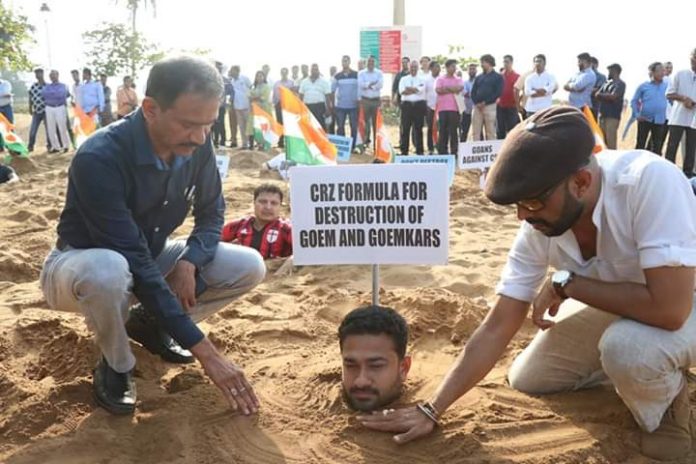 Miramar: Dozen of Goa Pradesh Youth Congress leaders on Thursday buried themselves till neck deep in the sand at Miramar beach near here to protest against the Coastal Regulation Zone Notification 2018.
The congress party was protesting against the notification which has curtailed the No Development Zone line to 50 metres.
Goa Pradesh Congress Committee President Girish Chodankar led the protest along with Leader of Opposition Chandrakant Kavlekar and former Chief Minister Digambar Kamat.
Dozen of Goa Pradesh Youth Congress Committee leaders led by its President Varad Mardolkar had buried themselves till neck deep in the sand as a mark of protest.
Talking to reporters during the protest, Chodankar said the CRZ notification as "government sponsored destruction of environment."
"Globally, it is the duty of respective governments to protect the environment. But Indian government is working otherwise. They are working to destroy the environment," he said.
The Congress leader said that the CRZ notification will spell doom to the tourism industry besides affecting the marine life and fishing community which is harvesting the Sea.
Chodankar termed the notification as "regressive step" and "biggest jolt to the environment."
He feared that the beaches would be sold out to the rich and wealthy people while traditional inhabitants and average locals will not have access to it.
Chodankar also alleged that by adopting the notification, the Union government has trying to help out the lobbies who are reprimanded by the National Green Tribunal.