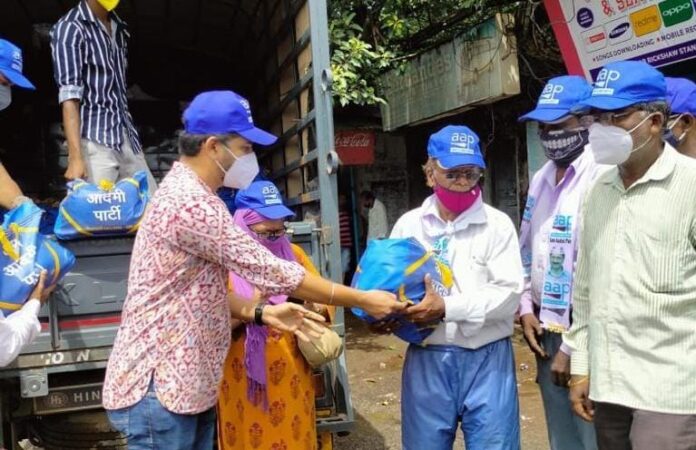 Ponda: Aam Aadmi Party today distributed free ration kits to almost 200 motorcycle, rickshaw and taxi drivers operating in and around the Ponda area. State Vice-President Adv. Surel Tilve along with AAP leaders Bramhanand Naik, Bhanudas Naik, Seby Dias, Manisha Naik, Aishwarya Naik, Reshma Angdi, Nickson Dias and others were part of the drive.
Tilve said that self-employed Goans such as motorcyle, rickshaw and taxi owners who depended on daily earnings, were going through difficult circumstances due to covid and the lockdown.
"With markets and shops closed for a long time, there was a drastic drop in income. However the cost of monthly outgoings such as fuel, EMIs, insurance, living expenses etc has kept rising. This is why we decided to take this step to provide some temporary relief to these sections", Tilve said.
Tilve accused the BJP Govt of only making empty announcements of financial compensation to those affected due to covid restrictions, revealing that not a single motorcyle, rickshaw or taxi owner has received even a rupee in relief.
The beneficiaries expressed their thanks to AAP for taking a timely step to provide relief during the pandemic. The association members said that a couple of other political leaders had done a similar drive, but restricted it only for those within their constituency. They lauded AAP for not discriminating on the basis of vote bank, and for handing over a free ration packet to every vehicle owner that came for the distribution from anywhere.