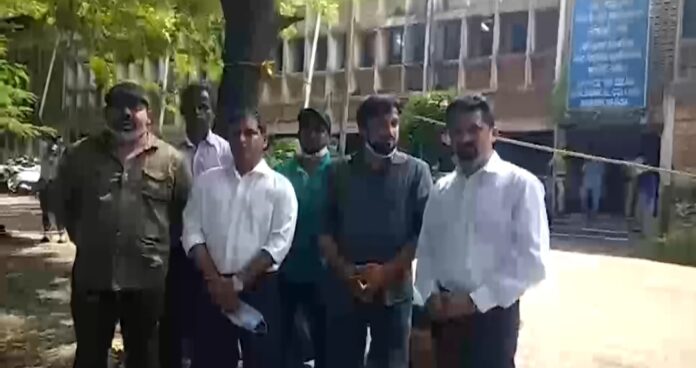 The Aam Aadmi party showed their support for striking GMC Covid Workers and joined their protests today. The Covid Frontline workers of the Goa Medical College were striking as part of their struggle to get their unpaid wages which had been due for over six months now. AAP has assured the striking workers that they will stand by them through all means possible even if it means taking the matter to court.
Lending their support, AAP Goa leaders – Amit Palekar, and Vice President Valmiki Naik & Surel TIlve met these 400 plus multi-tasking workers who were hired during the peak of the second COVID 19 wave, but are yet to get paid for their efforts.
Shri Amit Palekar, Senior AAP leader Goa stated that on one hand the entire country is appreciating the efforts done by these COVID worriers and on the other hand it is quite shameful that these workers have not got paid for over six months now.
"These workers have taken huge risk of their own lives to ensure proper care to the patients. It is very sad that even after six months, they are struggling to get their wages," he said.
He explained that even after several deliberations with senior ministers and administration, no one is ready to take up their case. "These workers have families to feed. The present government has totally failed to address the issues of the common people," Palekar added. "Just two days ago Delhi Dy CM Manish Sisodia had highlighted this very issue that Goa's frontline warriors have not even been paid and that the Sawant Sarkar has tricked them all. This is an example of how much the Sawant Sarkar has failed Goa and Goenkars"
"At one end the Sawant Sarkar says they will give 10K jobs but on the other hand they can't even pay these frontline workers! The Govt must get its act together or Goenkars will teach this Govt a lesson" added Palekar
"This is exactly why we said Pramod Sawant is about to be replaced. This is another lie of Pramod Sawant that has been caught. Pramod Sawant actually lied to PM Modi on the state of Goa's Corona warriors" said Valmiki Naik AAP Goa Vice President. "It is shameful that frontline Covide workers have to protest just for their jobs" added Naik
He informed that with the festive season already here most of the workers won't be able to celebrate any of them. "They have daily expenses. How long can you survive on borrowings? We have Diwali coming up, none of the workers would be able to light a lamp or celebrate the festivals this year," he added.