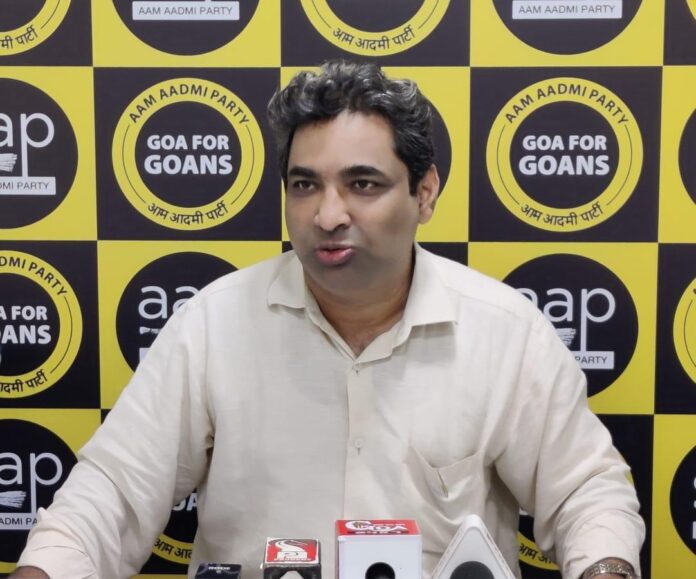 While pointing out that Goans are going through severe financial crisis due to the lockdown resulting in loss of revenue for most people, Aam Aadmi Party today demanded that the Rs. 300 crore package granted by the Union Finance Minister be used to generate employment and support local businesses.
AAP Goa Convener Rahul Mhambre pointed out that many Goans have lost their jobs due to the lockdown and are lying idle at home as there are jobs available and hence said this package should be used to provided employment opportunities for such people.
Besides, he said local business including local vendors and taxi drivers have gone through a bad phase as there have been no business opportunities for them and while pointing out that this problem will continue asked that the package be used to provide some relief to such local business persons.
He suggested that the government use these funds to make interim arrangements to provide some basic income to unemployed people in Goa so that they can live with dignity and peace and suggested that the government prepare a scheme wherein each person who lost a job or suffered business loss be provided relief of at least Rs. 5000.
"While our ancestors sacrificed a lot to get us liberated it would be befitting that the chief minister should set up an expert committee to suggest ways and means to provide relief to those affected by the pandemic and that would be true spirit of Liberation Day celebration," he said.
While pointing out that the Goa government was quick to waive off Rs. 277 crores to the casinos and also failed to levy any penalty on Adani and Jindal for not paying the environment cess, Rahul asked the government to use the liberation fund for the benefit of actual and needy Goans.
People attending the Veej Andolan programs of AAP have been disclosing the hardships they faced and there are really heart touching instances.
At Navelim a fish vendor began crying while naretting her difficulties as her regular customers did not have money to pay for what they purchased.
A senior citizen at Thivim chocked while disclosing that he did not have money to purchase his regular medicines and these are the people on whom the Rs 300 crore should be spent.